Lewis Hamilton wins Singapore Grand Prix after Sebastian Vettel crashes out Sebastian Vettel (No5) collides with Ferrari team-ma...
Lewis Hamilton wins Singapore Grand Prix after Sebastian Vettel crashes out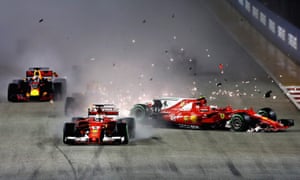 Formula One 2017 Lewis Hamilton wins Singapore Grand Prix after Sebastian Vettel crashes out • Vettel's first-lap exit allows Hamilton to extend drivers' championship lead
• Daniel Ricciardo second, Valtteri Bottas third in race hit by crashes and rain
Lewis Hamilton took victory at the Singapore Grand Prix, after a dramatic start in which three of his rivals took one another out. It was a victory which was unexpected but that the Mercedes driver grasped energetically and in doing so has established a commanding lead of 28 points over Ferrari's Sebastian Vettel.
On a wet track, Vettel clashed with his team-mate Kimi Raikkonen and the Red Bull of Max Verstappen off the start line and all three were eliminated from the race. Hamilton, who had started from fifth, avoided the crash and, having taken the lead, held it until the finish. He was followed home by the Red Bull of Daniel Ricciardo in second and the sister Mercedes of Valtteri Bottas in third.
"What a turnaround today," Hamilton said. "Fantastic job on the strategy, what a great day."
The race, interrupted repeatedly by the safety car, did not go the full distance running instead to the two-hour limit, and 58 laps. It is the three-times world champion's seventh win of the season and his 60th career victory has extended his lead over Vettel with only six race s remaining. After victory at the last two rounds in Monza and Spa, Hamilton now has three wins on the trot and four from the last five races. His third victory in Singapore was much more significant, however, in that Mercedes had been on the back foot at this track all weekend.
The high downforce required around the 23 predominantly slow corners of the 3.2-mile street circuit was expected to favour Ferrari and it proved to do so in qualifying, with Hamilton six-tenths down on Vettel's pole time. To come back and claim victory here, with the majority of the remaining races likely to favour the Mercedes, is an enormous boost to the British driver's world championship hopes.
The result, in contrast, is a body blow for Vettel and Ferrari, having begun the race expectant of reclaiming the title lead, they leave facing a huge task to claw back Hamilton's advantage.
F1: Lewis Hamilton leads Singapore GP after Sebastian Vettel crashes out â€" live! Read mo re
The rain had become heavy just moments before the start making it the first wet race to be held under the lights of Marina Bay. Raikkonen had a lightning start and came up the inside but, with Vettel moving over to go defensive into turn one, the two Ferraris sandwiched the Red Bull of Verstappen. Raikkonen hit the Dutch driver who had nowhere to go and the Finn was buffeted into his team-mate. Vettel took damage to his left sidepod and subsequently spun heading to turn five and lost his front wing when hitting the wall, ultimately ending his race.
Raikkonen then collected Verstappen in rejoining into turn one, taking both of them out of the race and damaging Fernando Alonso's McLaren in the process and he retired from the damage he sustained on lap eight. Hamilton, however, had also made a strong start and going round the outside of turn one was fortunate to avoid any contact and took the lead, in front of Ricciardo and the Renault of Nico Hülkenberg.
†œNot ideal is it," Vettel said. "I didn't see that much, I saw Max and then saw Kimi hitting the side of me and then Max and it was all three of us. We are not in the race, that is a pity but I am sure there will be more opportunities." The incident and all three drivers are under investigation by the stewards.
The safety car had been deployed but came in on lap four while the track remained wet and treacherous, despite the rain having stopped. Hamilton on the inters, however, was in his element. He had more than a three-second lead within a lap.
The safety car was deployed again on lap 11 when Daniil Kvyat put his Toro Rosso in the wall at turn seven on lap 11 and Ricciardo used the opportunity to pit and take fresh inters but Hamilton opted to stay out.
Hamilton asked his team: "Has everyone changed tyres except me? I'm not sure that was a good idea." Mercedes were opting to hold track position but, having stopped under the safety car, Ricciardo had taken a free stop for fresh rubber and maintained second place.
Racing resumed on lap 15 and Hamilton made a good restart, maintaining the lead. He remained concerned that he had not taken new tyres but was able to build a two-second gap within a couple of laps and, despite the Red Bull having been quicker all weekend, was able to further extend his lead to four seconds by lap 22.
The track was drying but slowly, and the point at which a switch to full slicks could be made became crucial, with Mercedes waiting on Hamilton's call as to when they would be suitable. Ricciardo came in on lap 28. Hamilton followed a lap later and rejoined in the lead, with an eight-second lead.
The British driver had discovered some of the pace that his Mercedes had lacked all weekend and although Ricciardo was able to attempt to come back at him, he could not bridge the gap. A further safety car period was called on lap 38 when Marcus Ericsson spun his Sauber on the bridge.
It brought Ricciardo right up on Hamilton but again on the restart on lap 41, the leader maintained position and held a twoâ€'second gap over the Australian. An advantage he was able to maintain to the end.
Behind the leaders, there was a cracking battle across the midfield, all looking to maximise their points-scoring opportunity. The Toro Rosso of Carlos Sainz Jr scored an impressive fourth, his best result in F1. The Force India of Sergio Pérez was in fifth and Renault's Jolyon Palmer, who has lost his seat with the team for 2018, scored his first points of the season in sixth. Stoffel Vandoorne in the McLaren was in seventh, followed by Lance Stroll in the Williams, Romain Grosjean in the Haas and Esteban Ocon in the second Force India.
Topics
Lewis Hamilton
Sebastian Vettel
Ferrari
Mercedes GP
Formula One
news
Share on Facebook
Share on Twitter
Share via Email
Share on LinkedIn
Share on Pinterest
Share on Google+
Share on WhatsApp
Share on Messenger
Source:
Google News