Antonio Conte says Chelsea 'need more luck' with referees after latest red card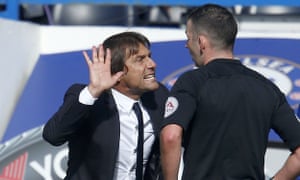 Chelsea Antonio Conte says Chelsea 'need more luck' with referees after latest red card • David Luiz sent off for tackle on Arsenal's Sead Kolasinac
• Wenger delighted with players in first away game since Liverpool
Antonio Conte has described Chelsea's troubling recent disciplinary record as "strange" and suggested his team need "to be mo re lucky" with officials after David Luiz became the fifth player to be dismissed in the champions' last eight games, late in the 0-0 draw with Arsenal at Stamford Bridge.
The Brazilian defender, already booked, was shown a straight red card by Michael Oliver after planting his right foot into Sead Kolasinac's left shin three minutes from time. David Luiz had lost control of the ball as he attempted to shrug off Alexis Sánchez, snapping at his back, and was apparently dismissed for use of excessive force. He will now serve a three-match ban, missing the visit of Nottingham Forest on Wednesday in the League Cup, next weekend's trip to Stoke and, most critically, the home game against Manchester City at the end of the month.
David Luiz sees red as Arsenal hold Chelsea in stalemate at Stamford Bridge Read more
He is the third Chelsea player to be sent off in five Premier League fixtures this season, following the dismissals of Gary Cahill and Cesc Fà bregas during the opening-day defeat by Burnley. Before that Pedro Rodríguez was sent off in the Community Shield against Arsenal and Victor Moses was dismissed against the same opponents in May's FA Cup final. Asked whether he thought Chelsea were developing a problem with indiscipline, Conte said: "I don't know. Do you think we are becoming bad? For sure, it's strange, no? A strange situation. Look, I was a player and I think this can happen, this type of period, if you are not so lucky and receive red cards. But we have to try to improve in all situations.
"We work to improve tactical and physical situations. In the end, we'll try to pay more attention in the future. I hope, also, to be more lucky with the refereeing decisions. For us, and also for the opponents. Sometimes the opponents deserve a red card but, instead, they carry on playing with 11 men. So you also have to be more lucky in the future."
The Italian pointed to Sánchez tugging at the defender's back as David Luiz progressed down the right touchline as key to the latest dismissal. "You know very well that I don't like to comment on refereeing decisions, it is in the past, but now the only thing I can tell you is it is very important to see what happened before the David Luiz tackle," said Conte, who will start Eden Hazard against Forest. "For sure [what Sánchez did] was a foul. For sure. And when a player is fouled in a continual way … But, I repeat, the referee took this decision. If he'd stopped the play before, it wouldn't matter."
Wenger, who lost Danny Welbeck to a groin injury, agreed with Oliver's decision. "It was excessive force, yes," he said, pointing out that Kolasinac had escaped injury because he was kicking the loose ball and was not set in his stance. "Even Luiz would accept there was a big distance [between him and the ball] and he went in too strong. After that, it's the decision of the referee. It looked to me like excessive force."
Arsenal's desire epitomised by Shkodran Mustafi in well-deserved draw | David Hytner Read more
The Arsenal manager was encouraged by his team's performance, particularly with memories still so raw of the thrashing endured at Liverpool last month, and praised his players' response to that last away fixture in the Premier League. "People forget we beat Chelsea in the FA Cup final, so we've shown that quality many times, but the challenge was higher coming here, to their ground, where they're traditionally very strong," he added. "When you deliver the kind of performance we had at Liverpool, you have to accept the criticism. You can only respond on the pitch, and we did that today.
"This game posed a question: what would happen? What changed is that, when you're a footballer, only one thing matters: the next game, and how you respond to a setback. That's what we saw today. With the right attitude and determi nation, it was vital for us to come out with a solid performance. We did that."
Topics
Share on Facebook
Share on Twitter
Share via Email
Share on LinkedIn
Share on Pinterest
Share on Google+
Share on WhatsApp
Share on Messenger
Source:
Google News