Al Franken resigns from Senate over sexual misconduct allegations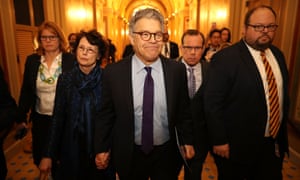 Al Franken Al Franken resigns from Senate over sexual misconduct allegations
Franken's decision follows calls from fellow Democrats to step down
Senator accused by more than six women of groping or trying to kiss them
Senator Al Franken announced his resignation on Thursday, becoming the highest ranking US politician yet to step down in the w ake of widening allegations of sexual misconduct against powerful men in Hollywood, Silicon Valley, the media and politics.
Speaking on the Senate floor, Franken said "all women deserve to be heard and their experiences taken seriously".
But he said that his response to the sexual misconduct allegations against him "gave some people the false impression that I was admitting doing things that I hadn't done. Some of the allegations against me are simply not true. Others I remember differently."
"Serving in the US Senate has been the greatest honor of my life," he said. "Nothing I have done as a senator has brought dishonor on this institution."
And he drew a contrast between himself and Donald Trump and Roy Moore, both of whom have rejected sexual assault allegations against them.
Nevertheless he said he was announcing that "in the coming weeks" he would be resigning.
His decision followed a cascade of calls on Wednesday led by Senate Democratic women who urged the Minnesota Democrat to step down. Their push to remove the former comedian from office is a striking indicator of the growing intolerance of sexual harassment over the past few months.
'Enough is enough': leading Democrats call on Al Franken to quit Read more
"Enough is enough," Senator Kirsten Gillibrand of New York said in a lengthy Facebook post that started the wave.
"As elected officials, we should be held to the highest standards â€" not the lowest," Gillibrand continued. "The allegations against Sen Franken describe behavior that cannot be tolerated. While he's entitled to an ethics committee hearing, I believe he should step aside to let someone else serve."
By the end of the day, the majority of the Democratic caucus, including minority leader Chuck Schumer, had called on Franken to step down.
"I consider Senator Franken a dear friend and greatly respect his a ccomplishments," Schumer said in a statement. "But he has a higher obligation to his constituents and the Senate, and he should step down immediately.
Schumer worked quietly throughout the day on Wednesday urging Franken to step down. According to a person familiar with the call, the minority leader called Franken early on Wednesday before any of his colleagues made public statements to deliver that message and later that day met Franken and his wife at Schumer's Washington apartment.
As early as this week, Franken appeared poised to ride out the controversy, even as John Conyers, the longest serving African American House member, left Congress amid multiple accusations of sexual harassment.

In the last several weeks, Franken, 66, has been accused by more than half a dozen women of groping or trying to forcibly kiss them. The senator has apologized for his behavior and asked the Senate ethics committee to investigate him.
On Wednesday, two mor e women woman stepped forward to accuse the former Saturday Night Live star of making an unwanted sexual advances.
A former congressional aide whose name was withheld told Politico that Franken had tried to forcibly kiss her after a taping of his radio show in 2006, two years before his election to the Senate. The woman alleged that Franken had told her:"It's my right as an entertainer."
And in a first-hand account published in the Atlantic, Tina Dupuy accused Franken of groping her while posing for a photo during a party for the liberal media watchdog group Media Matters celebrating the first presidential inauguration of Barack Obama.
Among the other women who have accused Franken of sexual impropriety is Leeann Tweeden, a radio broadcaster who has charged that Franken tried to forcibly kiss her during a 2006 tour to entertain US troops. Tweeden also released a photo in which Franken appeared to place his hands over her breasts while she was sleeping.
Franken has said that in some instances that he did not recall the incident in the same way as the women, while saying of others that he could not remember.
Franken's resignation marked a sharp descent for a man whose political fortunes were on the rise. He had emerged a liberal hero in the Trump era and was his name was whispered as a potential presidential contender in 2020.
Politics was far from Franken's first act. He got his start onSaturday Night Live in 1975, where he was a founding member of the show's writing staff and a frequent performer.
In 2004, Franken started as a co-host of the flagship program on Air America, a left-leaning radio network with the ambition to rival conservative talk radio. The showed ended when Franken announced his candidacy for the Senate in 2007.
Franken arrived belatedly in the Senate after a hotly contested race in 2008, that was determined by only 312 votes and an eight-month legal battle. He was seated in July 2009, more than six months after his term began. He was re-elected in 2014 by a more comfortable margin.

As as senator, Franken has sought to shed his funnyman image. He heightened his profile earlier this year, emerging as a liberal hero after a series of combative exchanges during the nomination hearings for Trump cabinet nominees.
In a series of social media posts and statements on Wednesday, colleagues described Franken as a "dear friend" but said that did not excuse his behavior.
"I consider Senator Franken to be a friend and have enjoyed working with him in the Senate in our shared fight to help American families," Gillibrand wrote.
"But this moment of reckoning about our friends and colleagues who have been accused of sexual misconduct is necessary, and it is painful. We must not lose sight that this watershed moment is bigger than any one industry, any one party, or any one person."
Topics
Democrats
US Senate
US Congress
Sexual harassment
US politics
news
Share on Facebook
Share on Twitter
Share via Email
Share on LinkedIn
Share on Pinterest
Share on Google+
Share on WhatsApp
Share on Messenger
Source:
Google News