Britain has entered 'new era of warfare' with Russian cyber attacks, Defence Secretary warns


Britain has entered a "new era of warfare" with Russia and other nations moving combat into cyberspace, the Defence Secretary has said.
Gavin Williamson said the UK and its allies must be "primed and ready" to tackle intensifying online threats to energy, infrastructure, finance and public services.
"We have entered a new era of warfare, witnessing a destructive and deadly mix of conventional military might and malicious cyber attacks," he added.
"Russia is ripping up the rule book by undermining democracy, wrecking livelihoods by targeting critical infrastructure, and weaponising information."
He was speaking after the Government accused Vladimir Putin's military of being behind a cyber attack that devastated Ukraine and affected businesses around the world over the summer.
The Kremlin has persiste ntly denied responsibility but the Foreign Office claimed that while the NotPetya "masqueraded" as a criminal enterprise, its true aim was to disrupt Ukraine's government, finance and energy.
Keir Giles, an expert on Russian security at Chatham House, said the attack and others like it were part of a worrying trend.
"This is precisely the set of behaviours which Russia's neighbours have been warning of, not just for years but for decades," he told The Independent.
'NotPetya' cyber attack hits firms across the world
"What is new is the willingness of senior figures in the UK to publicly recognise and state the problem - it does make a difference."
Mr Giles said that Barack Obama administration's quiet response to alleged Russian interference in the US election was "counter-productive.
He called the Defence Secretary's statement an important, if "overdue", step t owards building proper defences and forming a response.
"The new era of warfare is already here, this is what Russia has been practising hard for," Mr Giles claimed, saying the country's actions were based on a "permanent mindset of conflict" in the West.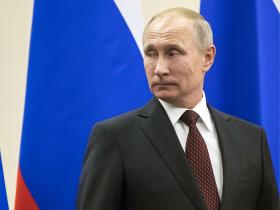 Russian-speaking countries pose 'number-one cyber threat to UK'
"Deterring Russia from hostile action is a more complex undertaking now than during the Cold War when simple military power was a much greater component of constraining Russian activities."
The NotPetya cyber attack started on 27 June and swiftly spread around the world, to countries including the UK, US, France, Germany, Italy and Poland.
The National Bank of Ukraine was among those first hit, with affected machines displaying a message claim ing the user must pay a ransom in bitcoin to recover encrypted files.
It was followed by other businesses with strong trade links with Ukraine, which has been targeted by numerous cyber attacks since the start of its 2014 conflict with pro-Russian separatists.
NotPetya's indiscriminate design let it spread quickly, eventually costing companies more than $1.2bn (£850m) and hitting the profits of British firms including Reckitt Benckiser, whose other brands include Nurofen, Veet and Clearasil.
The cyber security firm FireEye has linked the attack to Russian-linked hackers known as the "Sandworm Group", who have allegedly been behind numerous malware attacks on Ukraine since 2015.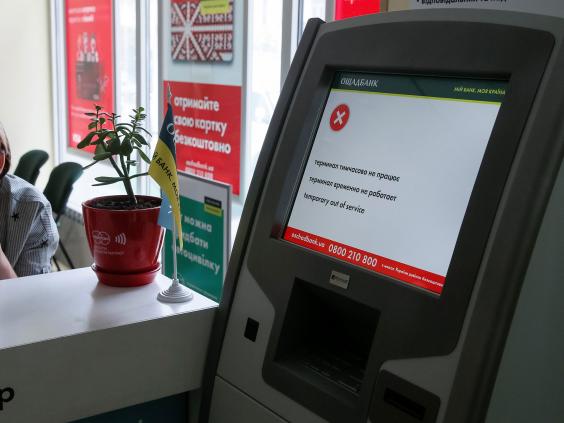 An employee sits next to a payment terminal out of order at a branch o f Ukraine's state-owned bank Oschadbank (Reuters)
"The earliest variations simply wiped the victims' machines, however, in 2017 a ransomware component was introduced," an analyst said.
"These prior attacks share features, including distribution through a compromised software provider and a wiper masquerading as ransomware, with the June 2017 Petya attack supporting the case of a link between Sandworm and Petya."
Lord Ahmad, a minister for cyber security, said the attack showed a "continued disregard for Ukrainian sovereignty".
He added: "Its reckless release disrupted organisations across Europe costing hundreds of millions of pounds.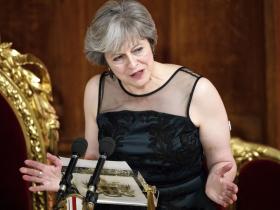 Theresa May warns Russia over election meddling and vows to protect UK
"The Kremlin has positioned Russia in d irect opposition to the West yet it doesn't have to be that way.
"We call upon Russia to be the responsible member of the international community it claims to be rather then secretly trying to undermine it."
Lord Ahmad vowed that the UK would identify and pursue those behind online attacks, no matter where they originate, and strengthen international efforts to uphold a free, open, peaceful and secure cyberspace.
It came after Theresa May accused Russia of "threatening the international order" with election meddling and cyber espionage and disruption in November.
"We know what you are doing and you will not succeed," the Prime Minister said. "The UK will do what is necessary to protect ourselves, and work with our allies to do likewise."
Russia denied responsibility for the NotPetya attack, pointing out that Russian firms were among those whose systems were affected.
World news in pictures
World news in pictures
1/50 15 February 2018

South Africa's new president Cyril Ramaphosa holds up his right hand as he is sworn into office

2/50 14 February 2018

The African National Congress's (ANC) treasurer general Paul Mashatile (left) and parliamentary chief whip Jackson Mthembu address a media briefing, after an emergency ANC caucus meeting on 14 February in Cape To wn. South Africa's parliament will hold a vote of no-confidence in President Jacob Zuma on 15 February, the ruling ANC party said, signalling its determination to eject him from office after days of stalemate

3/50 13 February 2018

North Korean cheerleaders are surrounded by media as they attempt to walk on Gyeongpo beach in Gangneung, South Korea

4/50 12 February 2018

Former US President Barack Obama unveils his portrait at the Smithsonian's National Portrait Gallery in Washington, DC

5/50 9 February 2018

US Vice President Mike Pence and North Korean leader Kim Jong-Un's sister Kim Yo-Jong attend the opening ceremony of the Pyeongchang 2018 Winter Olympic Games

6/50 8 February 2018

Bangladesh police charge towards activists of the Bangladesh Nationalist Party protesting following a verdict against opposition leader Khaleda Zia in Dhaka. The ex-Prime Minister of Bangladesh was jailed for five years on corruption charges.

7/50 7 February 2018

Rescue services search for people in a damaged building in eastern Taiwan after a magnitude 6.4 earthquake hit Hualien on the night of 6 February, 2018. Media reports said several buildings were damaged and at least four people were killed and some 100 were injured during the quake. Teams are trying to rescue people inside the buildings. Some bridges and roads are damaged and the main road to Hualien is closed. More than 100 earthquakes have hit off Taiwan's east coast in the past three days. The Seismological Observation Center said they are cuased by the friction between the Philipine Plate and Eurasian Plate.

8/50 6 February 2018

Anti-North Korean protesters push against police as a ferry carrying a North Korean art troupe for the Pyeongchang 2018 Winter Olympic Games approaches the port of Mukho in Donghae. Around 120 North Korean art performers in matching red coats and fur hats left for the Sout h, its state media said on February 6, the latest in the flurry of cross-border exchanges in the run-up to the Pyeongchang Olympics.

9/50 5 February 2018

Philadelphia Eagles' Nick Foles celebrates with the Vince Lombardi Trophy after winning Super Bowl LII.

10/50 4 February 2018

Authorities investigate the scene of a fatal Amtrak train crash in Cayce, South Carolina. At least two were killed and dozens injured.

11/50 3 February 2018

Me mbers of security services react as a man in the crowd tries to shake hands with French President Emmanuel Macron, who walks next to Senegalese President Macky Sall in a street of Saint-Louis, Senegal.

12/50 2 February 2018

County Sheriffs restrain Randall Margraves, the father of three daughters who were abused by Larry Nassar, after he tried to attack the former team USA Gymnastics doctor who pleaded guilty in November 2017 to sexual assault charges, during victim statements of his sentencing in the Eaton County Circuit Court in Charlotte, Michigan.

13/50 1 February 2018

Abu Rabih, 65, walks through the rubble with his eight-year-old grandson Yahya following air strikes by regime forces which hit the building where they live in Arbin, in the rebel-held Eastern Ghouta region on the outskirts of the Syrian capital Damascus. Arbin is in the Eastern Ghouta region which has been under government siege since 2013.

14/50 31 January 2018

A 'Supermoon' shines its blood red colors during a full eclipse above the Big A Sign of Angel Stadium in Anaheim, California. A 'Supermoon' commonly is described as a full moon at its closest distance to the earth with the moon appearing larger and brighter than usual.

15/50 30 January 2018

A man wears a mask among fellow supporters as Kenyan opposition leader Raila Odinga (not pictured) takes a symbolic presidential oath of office in Nairobi.

16/50 29 January 2018

Tractors are parked outside a meeting of European Union agriculture ministers during a protest by Belgian farmers in Brussels.

17/50 28 January 2018

Bruno Mars accepts Record of the Year for '24K Magic' with his production team onstage during the 60th Annual GRAMMY Awards at Madison Square Garden in New York.

18/50 27 January 2018

Students with torches gather prior to a march in celebration of the 165th birth anniversary of Cuba's independence hero Jose Marti, in Havana.

19/50 26 January 2018

A firefighter inspects a burnt hospital after a fire in Miryang, South Korea. 37 people were killed in the fire, with the number of casualties likely to rise further.

20/50 25 January 2018

Rescue workers and police officers stand near derailed trains in Pioltello, on the outskirts of Milan.

< h2> 21/50 24 January 2018

Afghan police officers take position during a blast and gun fire in Jalalabad, Afghanistan.

22/50 23 January 2018

Workers clean the beach of the coastal town of Zouk Mosbeh, north of Beirut, as garbage washed up and piled along the shore after stormy weather.

23/50 22 January 2018

A Free Syrian Army soldier takes a selfie as fighters join up with Turkish troops near the Syrian border at Hassa, Hatay province. Turkey shelled Kurdish militia targets in Syria and claimed progress in a cross-border offensiv e that has stoked concern among its allies and neighbours.

24/50 21 January 2018

Palestinians take part in a protest against aid cut, outside the United Nations Relief and Works Agency (UNRWA) office, in Rafah in the southern Gaza Strip.

25/50 20 January 2018

Oscar Janicki, 6, participates in the Second Annual Women's March in Philadelphia.

26/50 19 January 2018

Russian President Vladimir Putin bathes in an ice-cold water on Epiphany near St. Nilus St olobensky Monastery on Lake Seliger in Svetlitsa village, Russia. Thousands of Russian Orthodox Church followers will plunge into icy rivers and ponds across the country to mark Epiphany, cleansing themselves with water deemed holy for the day.

27/50 18 January 2018

People protest to call for a new DREAM Act to replace DACA in Los Angeles, California.

28/50 17 January 2018

Pro-democracy activists Raphael Wong and Joshua Wong arrive at Lai Chi Kok Reception Centre after they were jailed on protest related charges following their sentencing at the High Court in Hong Kong.

29/50 16 January 2018

Skyscrapers Oriental Pearl Tower and Jin Mao Tower (L) are seen from the Shanghai World Financial Center on a hazy day in the financial district of Pudong in Shanghai, China.

30/50 15 January 2018

Martin Luther King III, US Secretary of the Interior and others wait to place a wreath during an event at the Martin Luther King Memorial on the National Mall.

31/50 14 January 2018

A boy stands with women loyal to the Houthi movement during a gathering held to show their suppo rt to the movement in Sanaa, Yemen.

32/50 13 January 2018

Diego Martin Duplessis of Argentina drives his Honda during the 2018 Peru-Bolivia-Argentina Dakar rally, 40th edition stage seven, La Paz to Uyuni.

33/50 12 January 2018

Angela Merkel speaks during a joint press conference after exploratory talks in Berlin. According to reports, the leaders of CDU, CSU and SPD parties after night-long talks agreed on a plan for formal coalition negotiations.

34/50 11 January 2018

A Pakistani girl holds a picture of Zainab Ansari, an 8-year-old girl who was raped and kidnapped in Kasur, during a protest in Karachi, Pakistan. Anees Ansari, Zainab's father, accused the police of being slow to respond when his daughter went missing in the eastern Punjab province. Two people were killed and three others were wounded in clashes between angry Kasur residents and police after protesters enraged over her death attacked a police station in the city.

35/50 10 January 2018

India's Border Security Force (BSF) 'Daredevils' women motorcycle riders perform during a rehearsal for the Republic Day parade on a cold winter morning in New Delhi.

36/50 9 January 2018

Members of the South Korea delegation (R) shake hands with members of the North Korean delegation (L) during their meeting at the border truce village of Panmunjom in the Demilitarized Zone dividing the two Koreas. North and South Korea began their first official talks in more than two years, focusing on the forthcoming Winter Olympics after months of tensions over Pyongyang's nuclear weapons programme.

37/50 8 January 2018

Migrants in a dinghy are rescued by Libyan coast guards off the coast of Garabulli, east of Tripoli.

38/50 7 January 2018

French President Emmanuel Macron observes a minute of silence in front of the plaque commemorating late police officer Ahmed Merabet to mark the third anniversary of the Charlie Hebdo terrorist attack, in Paris.

39/50 6 January 2018

Nicolaos Solis from Greece kisses the wooden cross which was thrown into the waters by Ecumenical Patriarch Bartholomew I, during the Epiphany ceremony to bless the waters at the Golden Horn in Istanbul.

40/50 5 January 2018

Women mourn the death of a family member following a landslide in Kinshasa. Thirty-seven people died overnight when torrential rain and mudslides swep t though shanty homes.

41/50 4 January 2018

Mourners carry the body of Palestinian Mosab al-Tamimi, 17, who was shot and killed by Israeli troops, during his funeral near the West Bank city of Ramallah .

42/50 3 January 2018

People take part in pro-government rallies, Iran.

43/50 2 January 2018

Indonesian bus passengers watch as Mount Sinabung spews thick smoke in Karo, North Sumatra.

44/50 1 January 2018

People take part in the traditional New Year's Day swim in Scheveningen, Netherlands.

45/50 31 December 2017

Fireworks explode over Sydney Harbour during New Year's Eve celebrations.

46/50 30 December 2017

An Indian muslim lifts a stool with a metal rod pierced through his cheeks to commemorate the anniversary of the death of Rafai Papa Miyan Sai at the Shah-E-Alam Dargah shrine in Ahmedabad.

47/50 29 December 2017

A New York apartment fire killed at least 12 people, including a baby, with four more critically injured. Mayor Bill de Blasio said at a press conference from the scene that 'it is the worst fire tragedy we have seen in this city in at least a quarter century.'

48/50 28 December 2017

Afghan women mourn inside a hospital compound after a suicide attack in Kabul, Afghanistan.

49/50 27 December 2017

Pope Francis greets newlyweds during his weekly general audience at Aula Paolo VI in T he Vatican.

50/50 26 December 2017

Rohingya refugees walk next to a pond in the early morning at the Balukhali refugee camp near Cox's Bazar, Bangladesh.
"We categorically dismiss such accusations - we consider them unsubstantiated and groundless," said Kremlin spokesman Dmitry Peskov.
"It is no more than a continuation of the Russophobic campaign which is not based on any evidence."
NotPetya struck little over a month after another ransomware attack, WannaCry, disabled large parts of the NHS and sparked urgent calls for the government and private sector to prevent system vulnerabilities.
The Government attributed that attack to a North Korean hacking group, although the perpetr ators of the vast majority of incidents have never been made public.
Cyber criminals stealing reward points for luxury holidays
Ranked as a tier one national security threat alongside terrorism and organised crime, the danger posed by cyber criminals is expected to grow amid an explosion of internet-connected gadgets sold with little or no security.
Investigators say motives can range from pure profit to disruption and political pressure, depending on whether the culprits are hostile states, organised crime gangs, lone hackers, ideological "hacktivist" groups or script kiddies looking for kudos among their peers.
With increasingly blurred lines between criminal and state actors, and single attacks using perpetrators and infrastructure across multiple countries, identifying a so urce is difficult and can involve international investigations.
The National Cyber Security Centre (NCSC) is charged with preventing attacks in the UK, responding to incidents including the "brute force" attack on Parliament's email system.
Earlier this month it said millions of online attacks against the general public had been thwarted with technology that stops fake emails, phishing attacks and malicious servers.
"Russian interference, seen by the NCSC, has included attacks on the UK media, telecommunications and energy sectors," CEO Ciaran Martin warned.
"That is clearly a cause for concern - Russia is seeking to undermine the international system."
More about:
Russia
cyber attacks
NotPetya
Cyber warfare
Defence Secretary
Gavin Williamson
Vladimir Putin
National Cyber Security Centre
Reuse contentSource:
Google News