Hamas says US espouses Israeli narrative after human shield charges

Hamas says US espouses Israeli narrative after human shield chargesUpdated onWritten byi24NEWS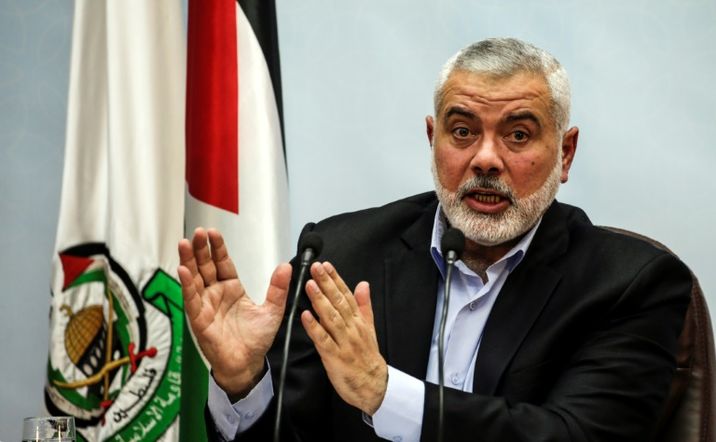 Hamas leader Ismail Haniya -- shown here giving a speech in Gaza City on January 23, 2018 -- is now under US sanctions on Washington's terror blacklist
MAHMUD HAMS (AFP/File)Hamas had been long accused of using people in the Gaza Strip to deter Israeli strikes
The Gaza based Hamas movement has rejected accusations leveled against it by the American House of Representatives after a document said they regularly use "human shields" in conflicts with Israel.
In a statement, Hamas claimed it is an integral part of the Palestinian people, and has vindicated protecting Palestinian citizens from multiple bloody aggressions by the State of Israel.
Hamas spokesman Fawzi Barhoum also said resisting Israeli "occupation" and self-defense against Israel is part of the Palestinians' legitimate rights as a nation, adding the House of Representatives resolution is only the last in a long list of anti-Palestinians measures taken by the US.
Palestinians have lost faith in the United States as a trustworthy mediator with Israel after President Donald Trump recognized Jerusalem as Israel's capital last December.
Furthermore, as Hamas spokesman Fawzi Barhoum mentions himself in the statement, the United States has frozen half of its first yearly contribution to the United Nations Relief and Works Agency for Palestine Refugees.
Hamas is already considered to be a terrorist organization by the United States and Europe, as well of course as Israel which suffered from bloody suic ide bombing attacks by the movement particularly during the Second Intifada.
Presenting the so-called Hamas Human Shields Prevention Act, American Representative Joe Wilson referred to Hamas as a "murderous terrorist group".
"The world must face the threat of Hamas terrorists, as they continue to perpetrate atrocities against civilians and use them as human shields. I am grateful that the US House of Representatives took a stand today against this murderous terrorist group, and am hopeful that the Senate will pass H.R. 3542 quickly," he said.
"I believe this legislation will help ensure the lives of innocent Palestinian civilians are s pared by proactively imposing strong sanctions against Hamas," he added.
According to the document voted by the House today, "Hamas forces have repeatedly fired rockets from civilian areas predominantly occupied by Palestinians including hospitals, mosques, and schools, putting Palestinian lives at constant risk."
"Hamas leaders routinely discourage Palestinian civilians from heeding these warnings, instructing them to remain in their homes, and, in some cases, force civilians to gather on the roofs of their homes to act as human shields," the document added.
Hamas has ruled Gaza since 2006, when they secured a victory in the first elections in the Strip since Israeli withdrawal.
Israel occupied the Gaza Strip between 1967, when it took it over from Egypt, and 2005, when then Israeli Prime Minister Ariel Sharon took the historical decision to remove settlers from the Strip and put and end to Israeli military presence there.
Sou rce:
Google News