Israeli strike 'kills Gaza youths planting bomb'

Middle East Middle East Israeli strike 'kills Gaza youths planting bomb'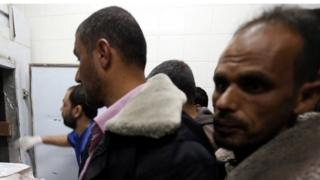 Three Palestinian youths have been killed in an Israeli air strike near the border between the Gaza Strip and Israel, Palestinian officials say.
Gaza's health ministry said the dead were boys aged 13 and 14.
The Israeli military said it targeted suspected militants who approached the border fence and "were apparently involved in placing" a bomb next to it.
Hamas, the militant Islamist group which dominates Gaza, accused Israel of targeting civilians.
The incident followed another escalation over the weekend.
On Friday night militants in Gaza fired at least 30 rockets towards Israel. The Israeli military responded with air strikes on what it said were more than 80 military targets in the strip.
The militant group Islamic Jihad said it launched the rockets after Israeli troops shot dead four Palestinians during protests on Friday along the Gaza-Israel border.
The Israeli military accused Iran and Syria of giving Islamic Jihad "orders and incentives", and warned that its response was "not limited geographically".
Did Israel use excessive force at Gaza protests?
Life in the Gaza Strip
Gaza protest image likened to famous painting
More than 200 Palestinians have been killed by Israeli forces since the end of March - most during weekly protests along the border at which thousands have expressed their support for the declared right of Palestinian refugees to return to their ancestral homes in what is now Israel.
One Israeli soldier has been killed on the Gaza-Israel border by a Palestinian sniper during the same period.
Protesters have also demanded the lifting of the decade-long blockade of Gaza that Israel and Egypt say they impose for security reasons.
Human rights groups have accused Israeli troops of using excessive force. Israel has said they have only opened fire in self-defence or on people trying to infiltrate its territory under the cover of the protests.
Palestinians have also launched kites and balloons carrying containers of burning fuel and explosive devices over the border, sparking fires in Israel that have reportedly burned more than 2,800 hectares (6,900 acres) of forest and farmland.
Top Stories
Passenger plane crashes in sea off Jakarta
The Boeing 737, carrying 189 people, vanished shortly after taking off from the Indonesian capital.
29 October 2018
How could a brand new plane crash?
29 October 2018
Survivors relive synagogue ordeal
28 October 2018
Features
'Jewish oasis' mourns a mass shooting
'The SOS in my Halloween decorations'
Five things to know for the week ahead
Trump's choice: Pugilist or peacemaker?
The year's best astronomy photos
What are Jair Bolsonaro's policies?
Why Cape Town's trains are on fire
Video
What is driving Americans to vote?
What we know about the Pittsburgh shooting
Elsewhere on the BBC
Football phrases
15 sayings from around the world
Full article Football phrases Why you can trust BBC News
BBC News Services
On your mobile
On your connected tv
Get news alerts
Contact BBC News
Source:
Google News Israel
|
Netizen 24 Israel